The Clipperton Expedition
Our expedition to Clipperton will be conducted under special permit delivered by French authorities. Only a handful of expeditions have obtained
this authorization during the past 10 years, most of which were French-lead scientific expeditions.

The objective of the expedition will be to document human impact and evolution of the ecosystem on such a remote island, document the presence of sharks and other large animals around the atoll and identify potential threats to better preserve this vital resource. We will tag and track several species of sharks during this period of migration. A team of scientists and international members will be onboard.

On September 15, 2016, France announced the creation of a MPA, recognizing the need to protect this remote atoll. If, with the data collected, scientists are able to confirm their theories on shark movements, the conclusions could lead to the enlargement of this new Marine Protected Area (MPA) in the Eastern Tropical Pacific. The ultimate ambition would be the creation of a corridor of protection with other countries such as Costa Rica, Columbia, Ecuador, Panama and Mexico and the listing of the area as a UNESCO World Heritage site.

During the expedition, we will also dive the Socorro Islands to have a chance to observe large animals like Manta rays, sharks, dolphins and whales.

Another study of interest has been added. A marine debris survey will be conducted by Meaghan Sorce, associated with Harvard University, and Sean Rothwell, with the New England Aquarium. The core of the study will be a marine debris census, the recording and GPS positioning of items, photographing, identifying, and the creation of a visual map of the findings. Along with this study, a beach cleanup will be conducted to eliminate, as much as possible, debris that poses an immediate threat to wildlife (especially marine life and birds). Lastly, an underwater census with photos of long lines and sunken marine debris, will be conducted to assess the state of the underwater reef surrounding Clipperton.
Trailer - Clipperton 2017
The Team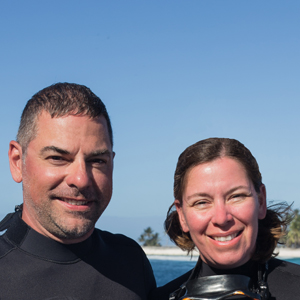 Expedition leaders
Michel Labrecque and Julie Ouimet / N2Pix

Canadians Michel Labrecque and Julie Ouimet are co-owners of N2Pix. Julie and Michel decided to go off the beaten path in 2007, leaving the corporate world behind, choosing the ocean. They are the previous owners of a PADI 5-Star IDC. Their intense passion for scuba diving and the underwater world has led them to the four corners of the world and now into underwater photography and filmmaking. N2Pix specializes in underwater imagery and scuba travel and expeditions. Largely influenced by the need to protect the ocean, lately their work has focused on shark conservation. They have concentrated their efforts on building grass roots support for ocean related issues.

Published photojournalists, guest speakers at major dive conferences, short film producers as well as accomplished instructors and technical divers. Both are Fellows of the Explorers Club and Associate members of the Boston Sea Rovers. Michel is also a PADI Ambassador and a DAN Examiner.
Marine Conservation Advocate
Julien Viel / Ikatere

Julien has dual citizenship (France and Canada) and is a communication expert fascinated by the underwater world. Born and raised with French oceanographer Jacques-Yves Cousteau's documentaries, his passion for the ocean and marine life got confirmed during a trip to Raja Ampat, in Indonesia, where he encountered a spectacular diversity of marine life. But it was also the place where he learned that these fragile ecosystems are being threatened by logging, mining, oil exploration, as well as dynamite blast fishing methods used by local subsistence fishermen. The whole Coral Triangle is an increasingly tempting target for overuse and exploitation. This trip led him to become a marine conservation advocate. He then founded Ikatere, a non-profit organization registered in both France and the USA, dedicated to the protection of the marine environment and solidarity with coastal communities. His works has focused mostly in Southeast Asia and Asia Pacific but now extends to the Eastern Tropical Pacific. Ikatere connects local communities, science, education and art to conserve, restore and sustainably manage coastal and marine ecosystems and resources. Julien is involved in ocean activity and conservation, such as a Coral Propagation Program in Malaysia. He also became a PADI Rescue Diver to follow up with his passion for diving and add a new set of skills to help him through his work to promote a healthy marine environment.
Lead Scientist and Shark Expert
Pr. Eric Clua

Professor Clua is a French expert in shark behavioral ecology with an emphasis on attacks on humans (forensic) and shark conservation. He graduated as a Doctor in Veterinary medecine from the Ecole Nationale Vétérinaire de Toulouse (France) in 1989. He received a Master's degree from the Ecole Pratique des Hautes Etudes (France) in 2000 and his PhD with honors from the same University in 2004. He also graduated from the Ecole Supérieure des Sciences Economiques et Commerciales in 1991. He is presently the Scientific Advisor for the High Commissioner of the French Republic.

Among his numerous accomplishments, Dr. Clua is also a Professional diver Class 1B, a National Instructor for Free-diving and a skilled underwater photographer / underwater video cameraman. As a filmmaker, his productions have been seen worldwwide. He also acts as an Expert in Forensic and legal Medicine (Shark attacks).
Scientist, Shark Expert and Political Advisor
Sandra Bessudo

She is a Marine Biologist who gratuated from the Ecole Pratique des Hautes Etudes (France), with a Master's Degree in Life and Earth Sciences in Perpignan (France). A professional diver with more than 5,000 open water dives, Sandra Bessudo is very committed to conservation and environmental protection. As Director of the Malpelo and other Marine Ecosystems Foundation, she was active in the creation of the MPA around the island. She oversees several research projects on sharks using acoustic and satellite telemetry.

Sandra served as Coordinator of workshops and lectures in Colombia for the International Year of the Oceans. She is a diving instructor for Club El Nogal and Director of diving for Aviatur. She has independently produced dozens of publications, videos and specialized documentaries.
Marine Debris Scientists
Meaghan Sorce and Sean Rothwell / Harvard University

Meaghan's fascination with sharks began at a young age, and quickly developed into an obsession with all sea life. She is currently completing her Master's degree at Harvard University, with a concentration in Ecosystems. For her thesis she is researching New England marine debris issues, particularly pertaining to policy, as well as inadequacies and gaps in management practices. Her work with marine debris began when she started leading beach cleanups through the New England Aquarium's liveblue™ Service Initiative. She has since worked on a variety of projects focused on marine debris and sea turtle conservation, with organizations such as the NOAA Marine Debris Program, Mass Audubon, and the Massachusetts Department of Conservation and Recreation.

Sean graduated from the University of Kansas, where he studied behavioral psychology. His passion for marine life took him from the Kansas flats to the New England coasts. Here, he began working with Meaghan on large scale beach cleanups, and has been her partner in fighting the threat of marine debris ever since. He is currently a member of the New England Aquarium Marine Mammal staff, where his primary role is pinniped husbandry and enrichment. Through his work, he hopes to inspire ocean stewardship, and promote a healthy environment for animals living in human care and the natural world.